:Coronavirus Information
---
If you are Homebound and in need of a vaccine, please click here 
Once you are Vaccinated click here 
Who Needs to Get Tested click here 
Covid Connect Helpline
Rutgers University Behavioral Health Care (RUBHC) is pleased to announce the Covid Connect Helpline (833) 223-0011.  Our new FREE helpline will provide and expand behavioral health treatments and supports to individuals who are experiencing mental health and substance abuse issues related to the spread of the COVID-19 virus.
A series of screening tools will be used to assess the caller's level of distress and mental health/addiction needs.  University Behavioral Health Care will provide a warm handoff to licensed treatment providers throughout the state that offer Telehealth services.  To ensure successful service linkage, our staff will follow up with all callers.  We are available Monday through Friday, 8am to 8pm.
Please see the flyer below & this 1-minute video for more information:  https://youtu.be/6KanJ9Te-z0
If you would like more information about our free helpline, please contact:
Susan Brown, Director: browns@ubhc.rutgers.edu
Irena Guberman, Program Manager: gubermir@ubhc.rutgers.edu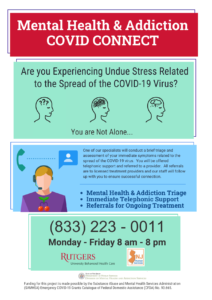 Seniors over 75 years old looking for help in obtaining the Covid vaccine please click here
Updated List on COVID-19 Vaccine sites
(List above is from Asbury Park Press article dated Jan 26, 2021)
Vaccine Quick Facts:
COVID-19 Vaccine Second Dose Information
For an updated list (as of 1/14/21) on who is currently eligible to make an appointment for the vaccine, click here
For information regarding the COVID-19 vaccine please visit https://www.visitmonmouth.com/Page.aspx?Id=5120
You may also pre-register for the vaccine by visiting https://covidvaccine.nj.gov/
The general public can now pre-register, and this will allow you to input your information, and will also allow individuals to schedule an appointment for those who are immediately eligible based on screening questions.
Thanksgiving Day Guidance: please click the link below for the CDC's guidelines for celebrating Thanksgiving this year.
 https://www.cdc.gov/coronavirus/2019-ncov/daily-life-coping/holidays/thanksgiving.html
The Monmouth County Board of Chosen Freeholders and The Grunin Foundation have partnered to bring FREE COVID19 testing to Monmouth County.  No appointment necessary and you do not have to be symptomatic to be tested. Click Here for the free testing sites in January.  
Key Steps When Waiting for a COVID-19 Result  click here
Small Landlord Emergency Grant (SLEG) Program
Today, Governor Murphy announced the Small Landlord Emergency Grant (SLEG) Program, which will reimburse small residential rental property owners for lost rent revenue due to COVID-19 between April and July 2020. By passing the benefit on to their tenants and forgiving outstanding back rent and late fees, landlords will not only receive necessary funds to stay afloat, but will also continue to provide stable housing in what has become an unstable time.
The New Jersey Housing and Mortgage Finance Agency is proud to join the effort in providing much-needed relief to New Jerseyans who have felt the economic impacts of the COVID-19 public health emergency. NJHMFA recognizes there is a long road ahead and is dedicated to maintaining housing stability and the health of our communities.
Learn more https://njhousing.gov/rentals/sleg/
Please note that the application period begins August 19 and ends August 26.
Free Covid Test Sites
COVID Quick Facts:
https://www.nj.gov/health/cd/documents/topics/NCOV/COVID-QuickFacts.pdf
When and how to quarantine/isolate given different scenarios:
https://www.nj.gov/health/cd/documents/topics/NCOV/COVID-How-Long-Isolate-Quarantine.pdf
Health Action to Protect You and Your Family:
https://www.nj.gov/health/cd/documents/topics/NCOV/COVID-19_Health_Actions_General%20Public.pdf
What is Contact Tracing:
https://www.nj.gov/health/cd/topics/20200630%20NJ%20COVID-19%20CT%20infographics%20v9.pdf
Important information regarding what to do after Covid-19 testing
If you tested positive click here
If you tested negative click here 
Road Back – Restart & Recovery Plan for Education
Governors Phased Re-Opening Plan 
Free Kits for Diabetics in Need:
A nonprofit organization aiding New Jersey residents with diabetes is offering an additional level of support during the coronavirus crisis.  The Hackensack based Diabetes Foundation will begin mailing free diabetes emergency kits to residents in need, with enough supplies to last 2 weeks.  Please click the link below for full details.  Anyone in need can apply to receive one by visiting http://diabetesfoundationinc.org or by calling 973-849-5234.
U.S. Small Business Administration Fact Sheet-Economic Injury Disaster Loans
New Jersey COVID-19 Resources (where residents can find information and helpful links regarding the COVID-19 Coronavirus)
Coronavirus/COVID-19 Rumor Control & Disinformation website
The N.J. Office of Homeland Security and Preparedness has created a Coronavirus/COVID-19 Rumor Control & Disinformation website at the following URL: https://www.njhomelandsecurity.gov/covid19.
The purpose of this page is to help the public distinguish between facts and rumors/disinformation regarding the novel coronavirus (COVID-19) pandemic.
This page will be updated as new rumors are vetted by the NJSP/OEM/OHSP
Governor Murphy Announces Mortgage Payment Relief, Financial Protections for New Jerseyans Facing Economic Hardship as a Result of COVID-19
COVID 19 Economic Relief Package
NJ Dept of Labor & Workforce Development Information
Essential Business List
The Small Business Owner's Guide to the CARES Act
SBA's Economic Injury Disaster Loan Basics
Paycheck Protection Program FAQs for Small Businesses
National Waste & Recycling Protect Your Trash & Workers
Top COVID 19 Scams to Lookout For
NJ Workers: Frequently Asked Questions During The Coronavirus Emergency
Holidays and COVID-19: Why NOT To Gather
Self Employed NJ Workers
Click here for help filing a pandemic unemployment claim
Click here for FAQ Sheet
New Jersey Natural Gas Energy Assistance
New Jersey Natural Gas is here for you during this challenging time. If you are experiencing financial hardship, our team is here to connect you with vital energy assistance programs to help pay your energy bills.
Click here for more information
Taking Care of Your Mental and Behavioral Health
Click here for Tips For Social Distancing, Quarantine, and Isolation
Click here for Coping With Stress During Infectious Disease Outbreaks
Executive Order 133 – Opening Parks and Golf Courses
Frequently Asked Questions About Animal Health Issues
Covid-19 Antibody Testing
Division of Local Government Services (DLGS)
DCA is pleased to announce the COVID-19 Emergency Rental Assistance Program, which will provide temporary rental assistance to selected low and moderate income households who have experienced unemployment or reduced income due to the pandemic. For more information on the program and how to apply.