Historical Committee
---
Press Release! MANALAPAN TOWNSHIP HISTORICAL COMMITTEE SEEKS TO PRESERVE LOCAL HISTORY
CLICK HERE FOR THE HISTORICAL COMMITTEE BROCHURE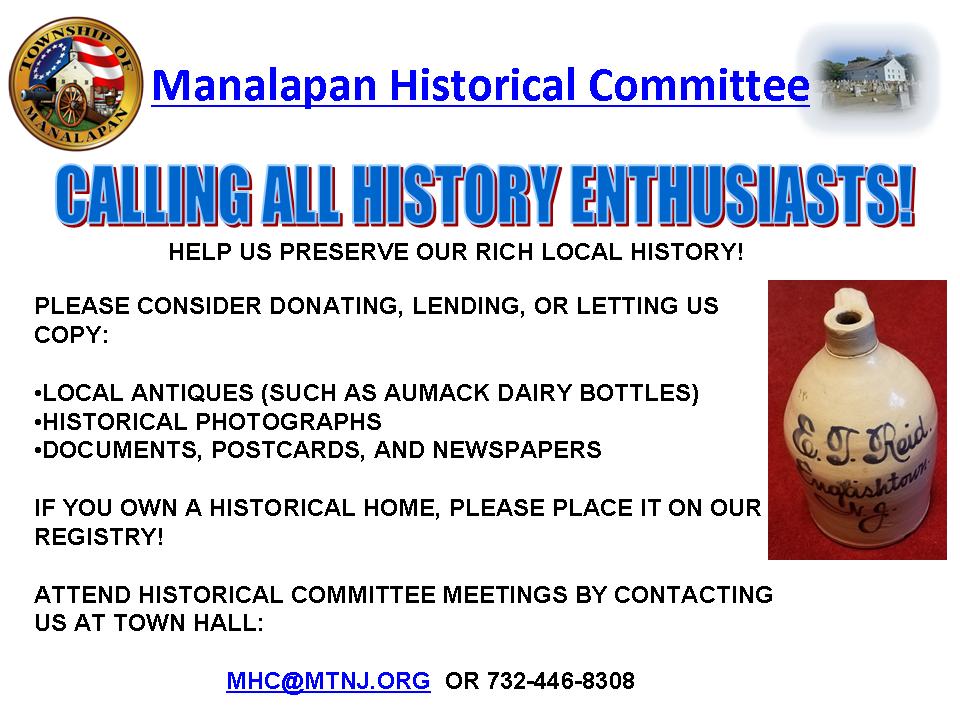 Mission Statement: To promote the preservation of historic buildings and other historic sites through identification and education.
Goals:
1. Promote public awareness of our historic sites
2. Encourage the proper maintenance of historic buildings and sites by current homeowners through education.
3. To discourage the demolition of historic resources
4. Update the survey of historic sites in the municipality
5. Advise the Zoning and Planning Boards on any historic concerns brought before them.
6. Secure local artifacts from the public for display
7. Establish programs for our Township schools about our history
8. Improve, restore and explore historic sites.
Text from the original Historical Committee Resolution can be found below: 
WHEREAS, there exists a need for the creation of a Historical Committee; and
WHEREAS, Manalapan Township has always been known for its historical significance and was the scene of the Battle of Monmouth, one of the most significant engagements of the American Revolution; and
WHEREAS, the Township Committee would like to carry on the tradition of Lydia Wikoff. who served as the Manalapan Township Historian since 1980 and create a Historical Committee whose purpose will include, but not be limited, to providing information, education and public awareness as to the Historical significance and importance of Manalapan Township in order to preserve and highlight the History of Manalapan Township.
NOW, THEREFORE, I, Mary Ann Musich, Mayor of the Township of Manalapan do hereby appoint the following individuals as members to the Historical Committee for the calendar year 2017
2023 Members:
Barry Jacobson, Township Liason
Maria Hill, Chair
Benjamin Doda
Fortunata Guarino
Jeffrey Hamel
Kathryn Kwaak
Joan Reid
Lauren Grace Roth
Mark Sagan
Lauren Toro
Samantha Fields
Jan Zachary