News & Events
Calendar of Events
Physical Fitness Month
June 01, 2018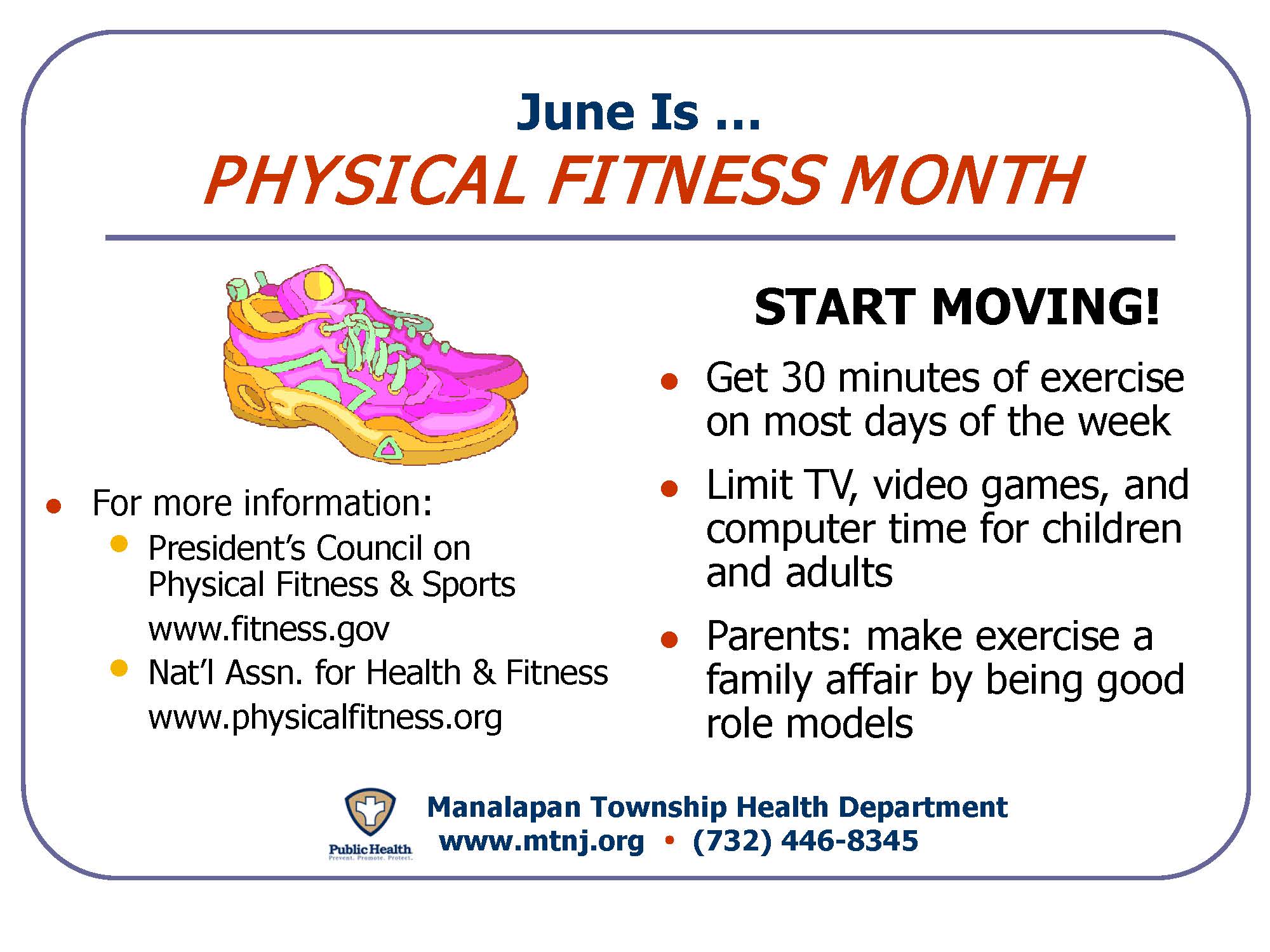 June is PHYSICAL FITNESS MONTH
Getting exercise helps maintain a strong, healthy body. Regardless of age, you should be getting some form of daily physical activity. Physical activities may include walking, swimming, dancing, running, football, jump rope, hiking, skipping, rollerblading, etc. In children and teenagers, physical activity can improve muscular fitness and bone and heart health.
Adults can help lower their risk of heart disease, diabetes, and certain cancers. They can also improve cognitive functioning such as learning and judgment skills.
Five components of physical fitness:
CARDIOVASCULAR ENDURANCE: This refers to your body's ability to carry oxygen throughout your body due to the working of your heart and lungs together. Exercises to improve cardiovascular endurance include jogging, swimming, and cycling.
MUSCLE STRENGTH: This type of strength refers to the amount of force a muscle can exert in a single effort. Bicep curls, leg presses, and bench presses can measure a person's muscle strength.
MUSCLE ENDURANCE: Muscle endurance is the ability a muscle can perform with continuous effort without fatigue. Fitness techniques to help improve this include cycling, step machines, and sit ups.
FLEXIBILITY: Flexibility refers to the ability of each joint to show a full range of motion. Exercises to focus on improving this include stretching individual muscles or doing exercises such as lunges.
BODY COMPOSITION: This refers to the amount of body fat you have versus lean muscles, bones, and organs. Several tests can be used to measure this.
It is important to get at least 20 minutes of exercise a day in order to maintain a healthy body!
For more information contact the Manalapan Township Health Department:
Hours:
Monday-Friday, 8:30 a.m. – 4:30 p.m.
Location:
Manalapan Town Hall
120 Route 522 & Taylors Mills Road, Manalapan, NJ 07726
Phone: (732) 446-8345
Fax: (732) 446-1576