News & Events
Calendar of Events
National STI Awareness Month
April 01, 2018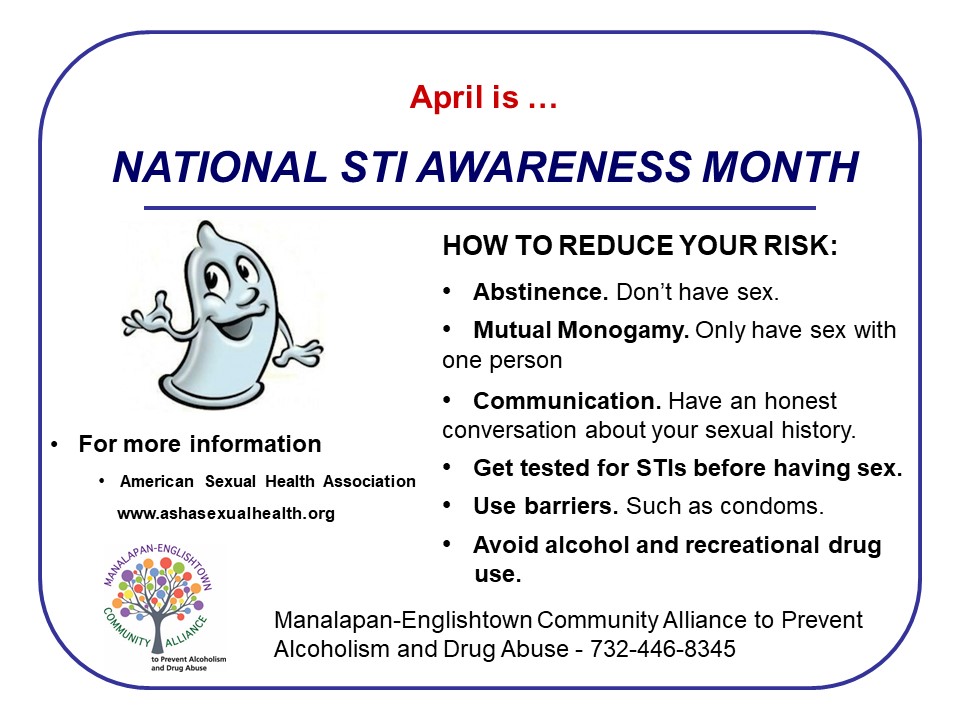 April is NATIONAL STI AWARENESS MONTH
STIs, or sexually transmitted infections, can affect people of all walks of life regardless of age and background. It has become an increasingly common issue, cases coming in at approximately twenty million each year. Because of these alarming numbers, it is imperative that people learn more about how to avoid STIs and how to treat it.
How to reduce one's risk:
Abstinence. Not partaking in sex completely removes any risk of contracting a sexual disease.
Mutual Monogamy. Only having sex with one person is another way of reducing one's chances.
Communication. Have an open conversation with your partner about sexual health and ways of prevention in the past.
Get tested for STIs before having sex.
Barriers. Use barriers such as condoms.
Avoid alcohol and recreational drug use. These may prohibit good decision making.
Myths and Facts:
MYTH: You cannot contract Herpes from a toilet seat. Herpes is instead spread by skin to skin contact.
FACT: You can contract HIV from getting a tattoo or body piercing. Instruments must be sterilized before use.
MYTH: You are not tested for STIs when you get your annual PAP test. You must ask a physician to be tested for STIs.
FACT: You can get an STI through oral sex.
MYTH: You cannot use a condom more than once. It should never be done under any circumstances.
For more information contact the Manalapan Township Health Department:
Hours:
Monday-Friday, 8:30 a.m. – 4:30 p.m.
Location:
Manalapan Town Hall
120 Route 522 & Taylors Mills Road, Manalapan, NJ 07726
Phone: (732) 446-8345
Fax: (732) 446-1576