News & Events
Calendar of Events
National Safety Month
June 01, 2018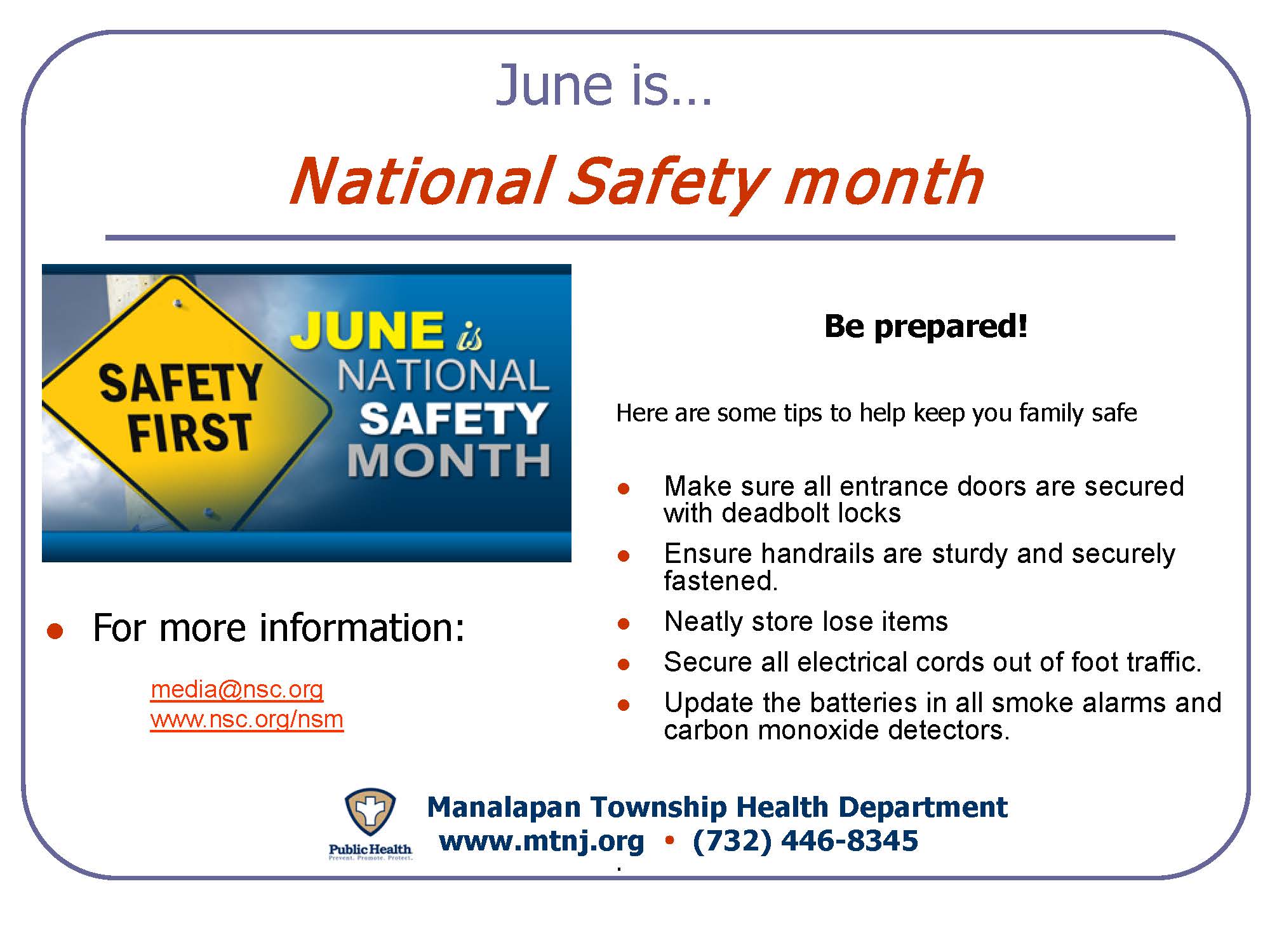 June is National Safety Month
Safety is an everyday activity
National safety month is in June and is used to teach about important safety issues such as prescription painkiller abuse, transportation safety, ergonomics, emergency preparedness, slips, trips, and falls. As a comuntity we can learn about these issues and become safer human beings.
Injuries are a leading cause of disability for people of all ages – and they are the leading cause of death for Americans ages 1 to 44. The good news is everyone can get involved to help prevent injuries. This June, we encourage you to learn more about important safety issues like prescription painkiller abuse, transportation safety, and slips, trips, and falls.
•Prescription painkiller abuse: Prescription painkiller overdoses are a growingproblem in the United States, especially among women. About 18 women dieevery day from a prescription painkiller overdose – more than 4 times as manyas back in 1999.
•Transportation safety: Doing other activities while driving – like texting or eating–distracts you and increases your chance of crashing. Almost 1 in 5 crashes(17%) that injured someone involved distracted driving.
•Slips, trips, and falls: One in 3 older adults falls each year. Many falls lead tobroken bones and other health problems.
How to help Seniors
To help protect your seniors at home, follow these simple safeguards:
Set the water heater thermostat at 120° F or lower to prevent accidental scalding.
Ensure handrails are sturdy and securely fastened.
Update the batteries in all smoke alarms and carbon monoxide detectors.
Keep a lamp or flashlight and telephone within reach of the bed.
Add extra lighting where needed throughout the home.
Secure all electrical cords out of foot traffic.
Make sure all entrance doors are secured with deadbolt locks.
Remove any loose rugs or carpeting without a nonslip backing.
Here are some general tips to prevent injury from contact with objects
Secure items that are stored at a height
Store heavy items close to the floor
Open one filling cabinet drawer at a time to prevent tip-over
Wear the proper personal protective equipment for your environment, such as steel-toed shoes
Always walk behind moving equipment, if possible
Never obstruct your vison by overloading moving equipment
Only operate equipment that you are properly trained to use
Make sure all the safety devices on your equipment are in good working order before use
Use extra caution around corners near doorways
For more information contact the Manalapan Township Health Department:
Hours:
Monday-Friday, 8:30 a.m. – 4:30 p.m.
Location:
Manalapan Town Hall
120 Route 522 & Taylors Mills Road, Manalapan, NJ 07726
Phone: (732) 446-8345
Fax: (732) 446-1576