News & Events
Calendar of Events
National Nutrition Month
March 01, 2018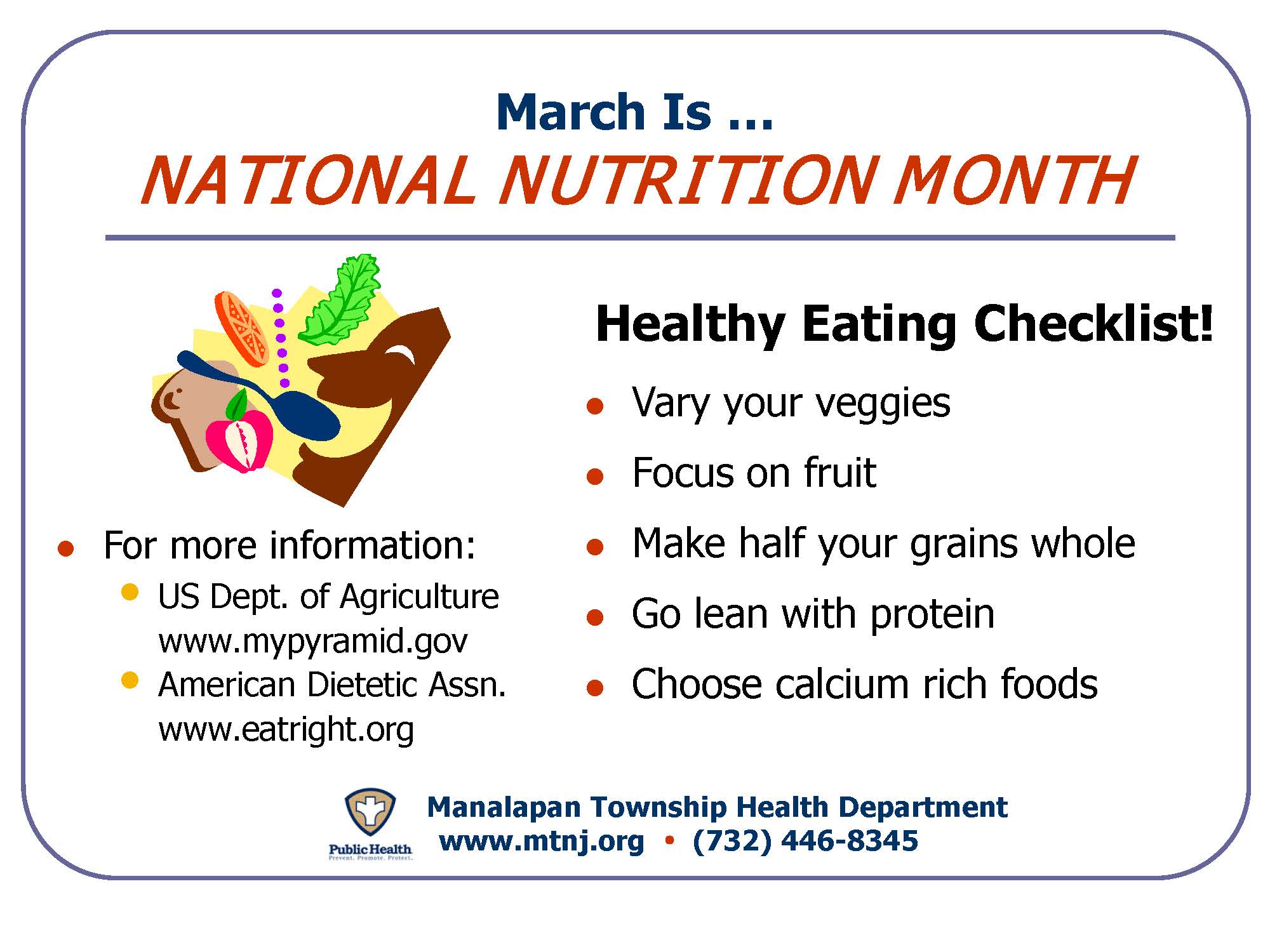 March is NATIONAL NUTRITION MONTH
There are so many food options out there. It can be difficult to make the hard but healthier decision and avoid unhealthy foods. A diet that contains too many unhealthy foods can lead to many consequences, such as diseases such as diabetes and heart diseases.
Eating healthy is easier than you may think. In fact, there are a few simple steps that you can take to improve your diet. The most important way to make your diet better is to lower the amount of calories you eat. Additionally, you should try to eat more vegetables, fruits, whole grains, lean meats, and foods that contain calcium while avoiding foods that are high in fat, sugar, and salt.
The Academy of Nutrition and Dietetics and the United States Department of Agriculture recognize March as National Nutrition Month.
VARY YOUR VEGGIES AND FOCUS ON FRUIT. Fruits and vegetables are an important part of a healthy diet and they can help you reduce the risk of developing some diseases , such as heart disease, heart attack, and stroke. Vegetables and fruit contain many essential nutrients and are usually lower in calories than other foods.
MAKE HALF OF YOUR GRAINS WHOLE. Whole grains are healthier than refined grains and can help lower the risk of some diseases. Try inserting some whole grains into your diet. For example, eat whole wheat bread instead of white bread, brown rice instead of white rice, or whole wheat pasta.
GO LEAN WITH PROTEIN. Try to choose the leanest cuts of meat and remove all visible fat from the meat before cooking it. Lean meat is healthier and contains fewer calories than meat that has more fat.
CHOOSE CALCIUM RICH FOODS. These include dairy products (cheese, yogurt, milk), leafy green vegetables, sardines, fortified cereals, fortified orange juice, fortified soy milk, and enriched grains and breads. Calcium helps with bone health, heart function, and muscle function.
CUT BACK ON FOODS HIGH IN FAT, SUGAR, AND SALT. Try to avoid sweets, desserts, sugary drinks, fatty meats, and other foods that are high in fat, sugar, and salt. These foods can be eaten occasionally, but not every day. Look for alternatives that are "low fat" or "sugar-free" or "low sodium."
For more information contact the Manalapan Township Health Department:
Hours:
Monday-Friday, 8:30 a.m. – 4:30 p.m.
Location:
Manalapan Town Hall
120 Route 522 & Taylors Mills Road, Manalapan, NJ 07726
Phone: (732) 446-8345
Fax: (732) 446-1576