News & Events
Calendar of Events
National Lightning Safety Awareness Week
June 24, 2018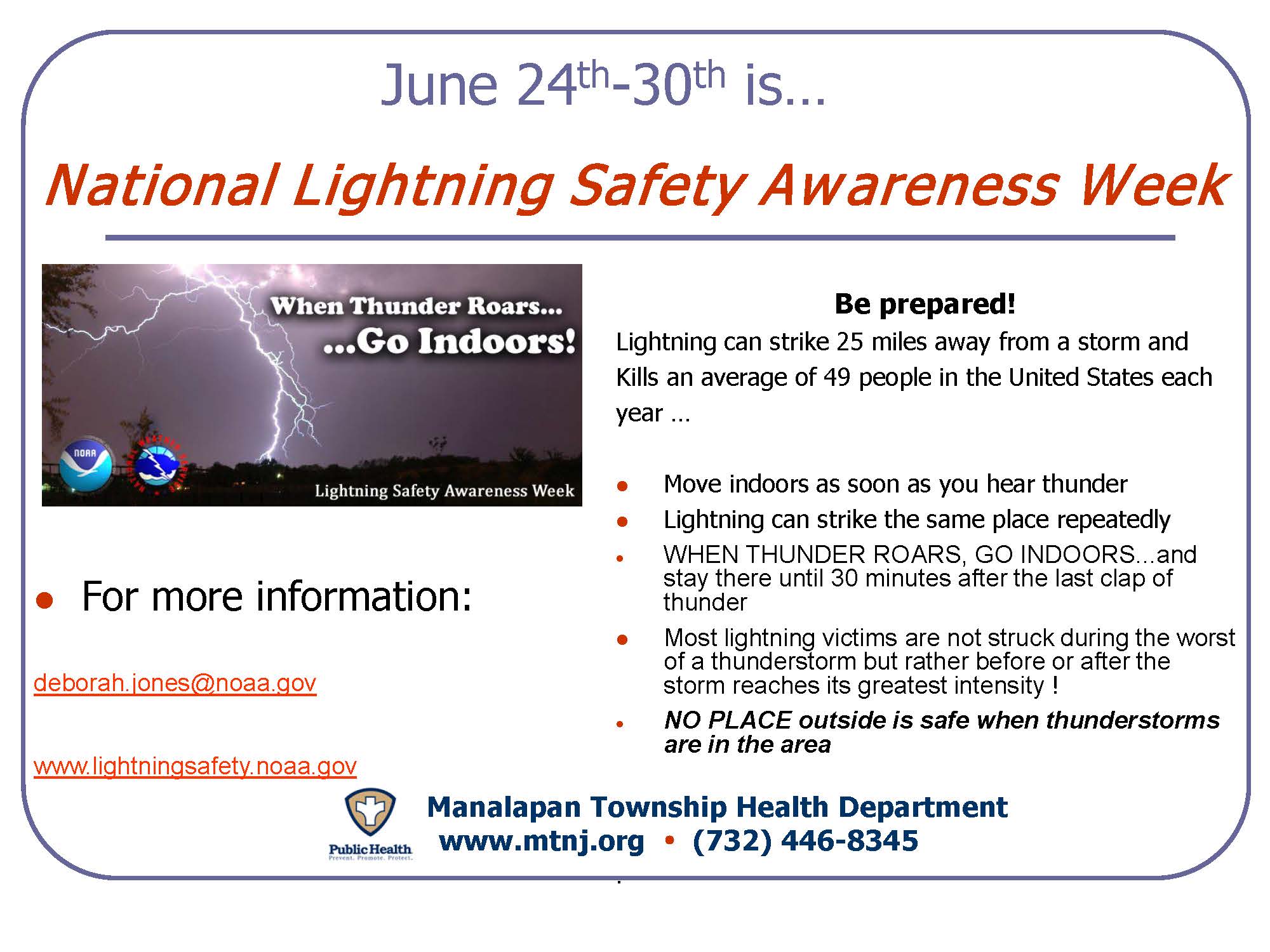 June 24th- 30th is National Lightning Safety Awareness Week
What is Lightning?
Lightning is the occurrence of a natural electrical discharge of very short duration and high voltage between a cloud and the ground or within a cloud, accompanied by a bright flash and typically also thunder. Lightning strikes the United States about 25 million times a year. Although most lightning occurs in the summer, people can be struck at any time of year. Lightning kills an average of 49 people in the United States each year, and hundreds more are severely injured.
Lightning Safety Tips
Lightning is one of the most erratic and unpredictable characteristics of a thunderstorm
Most lightning victims are not struck during the worst of a thunderstorm but rather before or after the storm reaches its greatest intensity.
Lightning can strike as far as 25 miles away from its thunderstorm
If you can hear thunder, you are within striking distance so seek shelter indoors
WHEN THUNDER ROARS, GO INDOORS...and stay there until 30 minutes after the last clap of thunder
Determine where you will seek shelter in the event of a thunderstorm and how long it would take to reach that shelter. A sturdy, enclosed structure with plumbing and electrical wiring is safest, but if one is not available most enclosed metal vehicles are safe alternatives.
During your outdoor activities, keep an eye to the sky for developing thunderstorms. If thunder is heard, if lightning is seen, or even if thunderclouds are developing, get to your place of shelter without delay!
Lightning often strikes the same place or object repeatedly, especially if it's tall, pointy, and isolated. The Empire State Building is struck by lightning nearly 100 times each year.
NO PLACE outside is safe when thunderstorms are in the area
During a thunderstorm, follow the following safety tips
Postpone outdoor activities if thunderstorms are likely to occur. Many people struck by lightning are not in the area where rain is occurring
If a severe thunderstorm warning is issued, take shelter in a substantial building or in a vehicle with the windows closed. Get out of mobile homes that can blow over in high winds.
Shutter windows and close outside doors securely. Keep away from windows.
Do not take a bath, shower or use plumbing
If you are driving, try to safely exit the roadway and park. Stay in the vehicle and turn on the emergency flashers until the heavy rain ends. Avoid touching metal or other surfaces that conduct electricity in and outside the vehicle.
If you are outside and cannot reach a safe building, avoid high ground; water; tall, isolated trees; and metal objects such as fences or bleachers. Picnic shelters, dugouts and sheds are NOT safe.
Every thunderstorm produces lightning, which kills more people each year than tornadoes or hurricanes. People struck by lightning can suffer permanent injuries or long-term symptoms including memory loss, sleep disorders, chronic pain, numbness, dizziness, irritability, weakness, fatigue, depression and others.
If someone has been struck by lightning
Check the scene for safety and then check the person. Call for help. Call 9-1-1. Anyone who has sustained a lightning strike requires professional medical care.
Check the person for burns and other injuries. If the person has stopped breathing, have someone call 9-1-1 and begin CPR. If the person is breathing normally, look for other possible injuries and care for them as necessary. People who have been struck by lightning do not retain an electrical charge and can be handled safely.
For more information contact the Manalapan Township Health Department:
Hours:
Monday-Friday, 8:30 a.m. – 4:30 p.m.
Location:
Manalapan Town Hall
120 Route 522 & Taylors Mills Road, Manalapan, NJ 07726
Phone: (732) 446-8345
Fax: (732) 446-1576