News & Events
Calendar of Events
National HIV Testing Day
June 24, 2018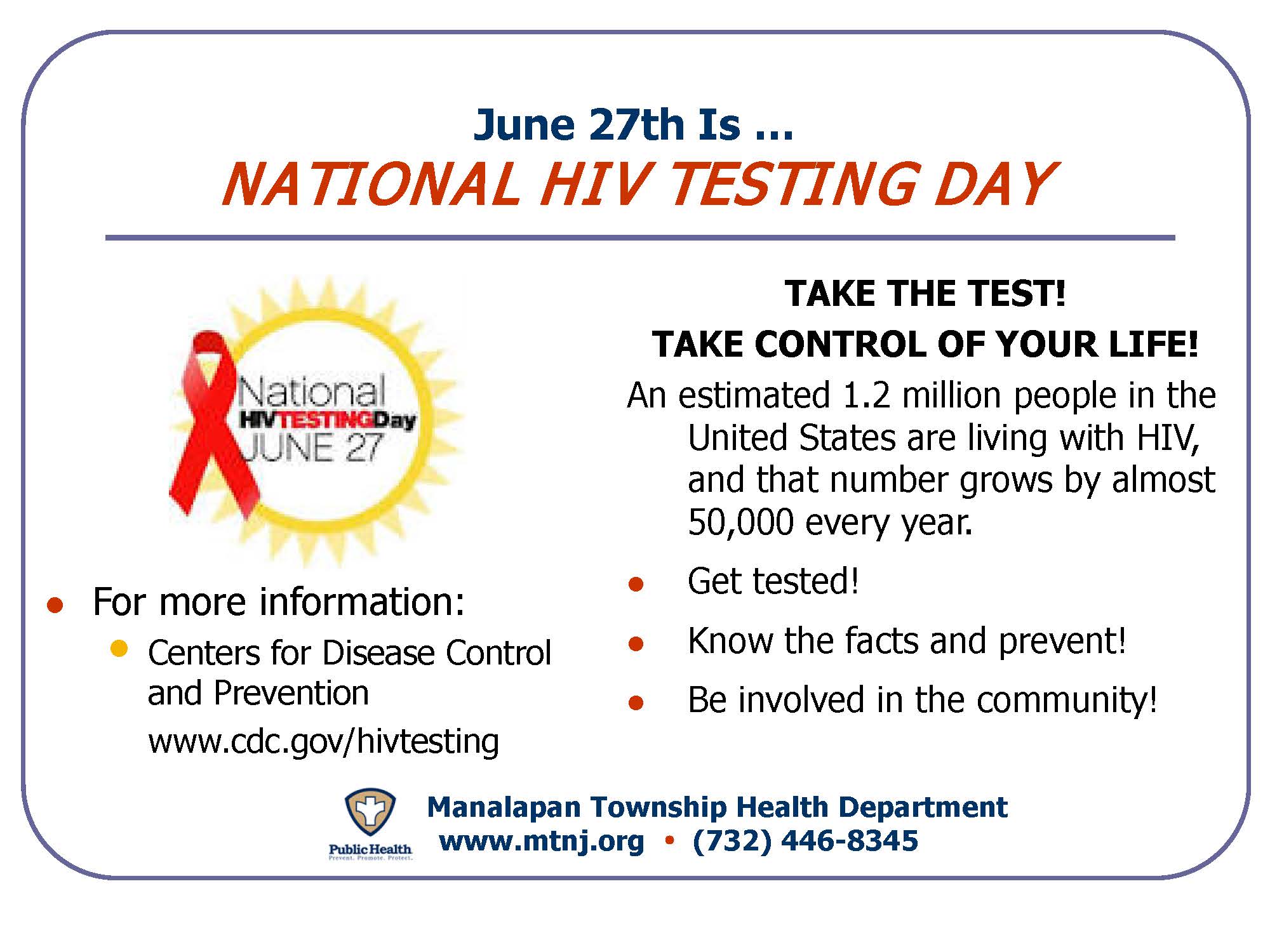 June 27th is NATIONAL HIV TESTING DAY
An estimated 1.2 million people in the United States are living with HIV, and that number grows by almost 50,000 every year. One in eight people who have HIV don't know it. That means they aren't getting the medical care they need to stay healthy and avoid passing HIV to others. CDC has found that more than 90 percent of new HIV infections in the United States could be prevented by testing and diagnosing people who have HIV and ensuring they receive prompt, ongoing care and treatment. Early linkage to and retention in HIV care is central to managing HIV and promoting health among all people living with HIV. HIV medicines can keep people with HIV healthy for many years, and greatly reduce the chance of transmitting HIV to their sex partners.
HIV signs and symptoms
Many people do not develop symptoms after getting infected with HIV. Others have a flu-like illness within several days to weeks after exposure to the virus. They complain of fever, headache, tiredness, and enlarged lymph glands in the neck. These symptoms usually disappear on their own within a few weeks.
Following initial infection, you may have no symptoms. The progression of disease varies widely among individuals. This state may last from a few months to more than 10 years.
During this period, the virus continues to multiply actively and infects and kills the cells of the immune system. The immune system allows us to fight against the bacteria, viruses, and other infectious causes
The virus destroys the cells that are the primary infection fighters, called CD4+ or T4 cells.
Once the immune system is weakened, a person infected with HIV may develop some of these symptoms:
Frequent fevers
Weight loss
Lack of energy
Short-term memory loss
Mouth, genital, or anal sores from herpes infections
Learn the facts of HIV
Learn the basics about HIV, how to prevent HIV transmission, and the steps you can take to protect yourself and others.
Talk about what you learn with your friends and other people who are important to you.
Get tested for HIV. You can ask your health care provider to test you for HIV. Many medical clinics, substance abuse programs, community health centers, and hospitals offer HIV testing. Testing is often free of charge.
Be involved
HIV testing is only one step. We can all do something to help stop HIV. Here are some ideas about how you and your friends can get involved.
Share your knowledge of HIV or your personal HIV story with others. One of the best ways to increase awareness is through a personal connection with others.
Use social media to increase HIV awareness.
Support people living with HIV. Have an open, honest conversation about staying safe and healthy. Listen to the challenges that people living with HIV face and provide support for their special needs.
Volunteer in the community
Hours:
Monday-Friday, 8:30 a.m. – 4:30 p.m.
Location:
Manalapan Town Hall
120 Route 522 & Taylors Mills Road, Manalapan, NJ 07726
Phone: (732) 446-8345
Fax: (732) 446-1576