News & Events
Calendar of Events
National Distracted Driving Awareness Month
April 01, 2018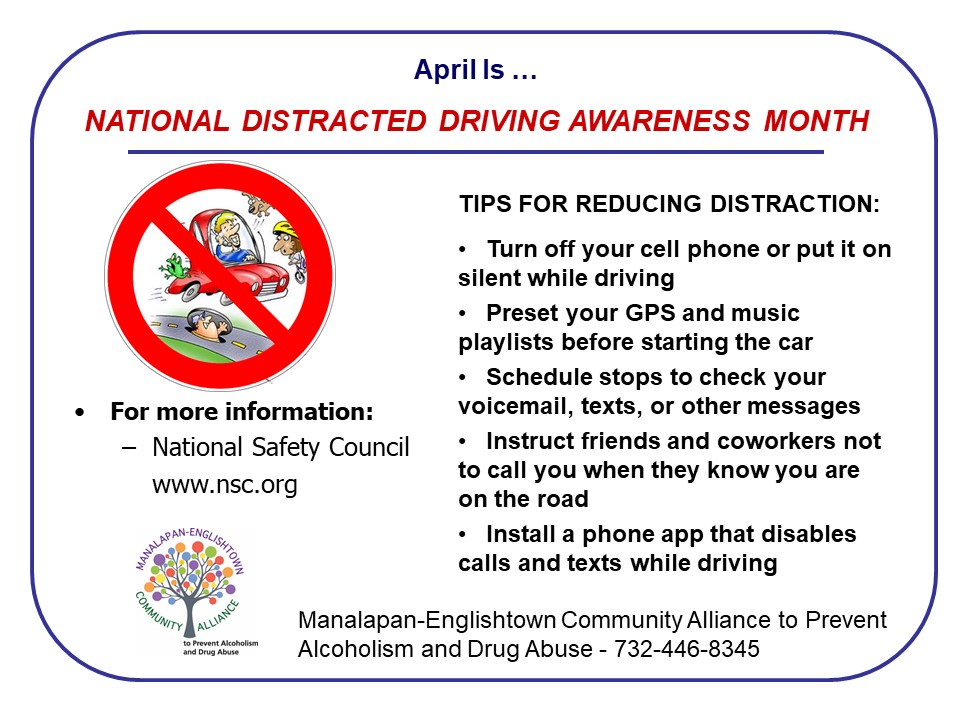 April is NATIONAL Distracted Driving Awareness Month
Avoidable accidents are often started by distracted drivers. This could be due to multitasking, which includes talking driving while on the phone, picking out music, and texting among other things. Distracted driving can put the driver, those in the car, and other drivers in great risk. It is important to learn how to avoid such distractions while still having an enjoyable ride.
Tips for reducing distraction:
Turn off your cell phone or put it on silent while driving
Preset your GPS and music playlists before starting the car
Schedule stops to check your voicemail, texts, or other messages
Instruct friends and coworkers not to call you when they know you are on the road
Start all calls by making sure no one is driving; if someone is, tell them to call back when they reach a safe location
Install a phone app that disables calls and texts while driving
It is a common misconception that making hands-free calls using an ear-piece or a dashboard speaker is safer that using a cell phone. More than thirty studies have proven this belief incorrect. The issue is that these calls are still just as distracting and thus still cause the same problem. This has been concluded based on the following results:
Using hand-free features actually increase mental distraction
Using voice-to-text is typically more distracting than typing texts while on the road
Texting with one's hands or voice decreases reaction time by twice as much and causes one to keep his or her eyes on the road less
Some fearful statistics:
Drivers talking on hand-held or hands-free cell phones are four times as likely to get in an accident
The average cost for property damage as of 2011 is $9,100
Those talking on their cell phones while driving are in 21% of all traffic accidents in the U.S.
For more information contact the Manalapan Township Health Department:
Hours:
Monday-Friday, 8:30 a.m. – 4:30 p.m.
Location:
Manalapan Town Hall
120 Route 522 & Taylors Mills Road, Manalapan, NJ 07726
Phone: (732) 446-8345
Fax: (732) 446-1576