News & Events
Calendar of Events
National Colorectal Cancer Awareness Month
March 01, 2018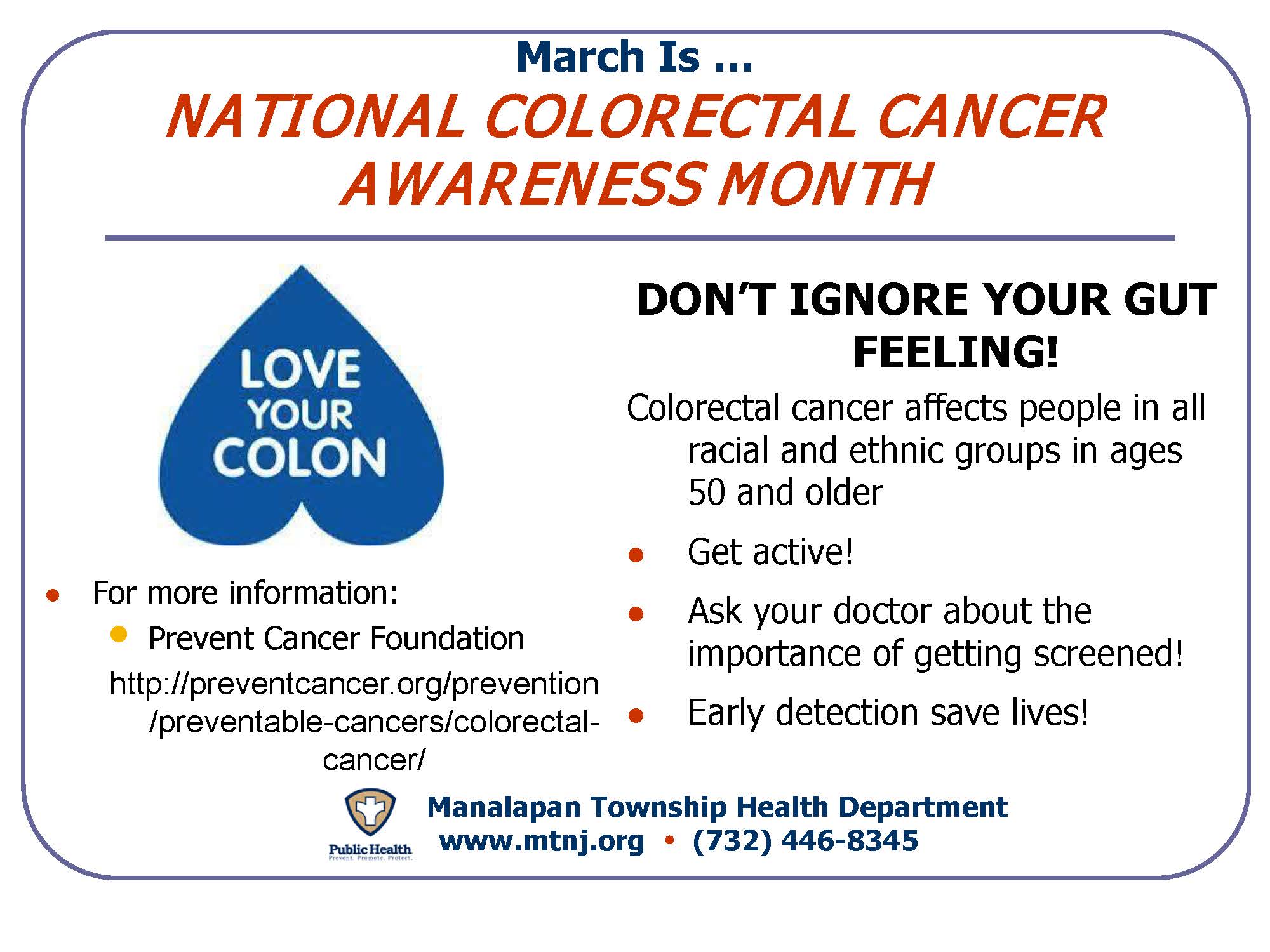 March is NATIONAL COLORECTAL CANCER AWARENESS MONTH
Among the various cancers that affect both men and women, colorectal cancer (cancer of the colon or rectum) is the second leading cause of cancer deaths in the United States. Every year, about 140,000 Americans are diagnosed with colorectal cancer, and more than 50, 000 people die from it. Colorectal cancer affects people in all racial and ethnic groups and is most often found in people age 50 and older. However, this disease is preventable by getting screened beginning at age 50. If everyone age 50 and older were screened regularly, 6 out of 10 deaths from colorectal cancer could be prevented! Communities, health professionals, and families can work together to encourage people to get screened.
How are Public Health Authorities trying to make a difference?
Encouraging families to get active together – exercise may help reduce the risk of colorectal cancer.
Talking to people in your community about the importance of getting screened for colorectal cancer starting at age 50
Asking doctors and nurses to talk to patients age 50 and older about the importance of getting screened.
Signs and Symptoms of Colorectal Cancer
Precancerous polyps (abnormal growth of tissues) and colorectal cancer don't always cause symptoms at first. People could have polyps or colorectal cancer and not know about it. Here are symptoms of colorectal cancer:
Blood in or on the stool (bowel movement)
Stomach pain, aches, or cramps that do not go away
Rectal bleeding
Weakness and fatigue
Losing weight without knowledge about it
Colorectal cancers can bleed. While sometimes the blood can be seen in the stool or make it look darker, often the stool looks normal. The blood loss can build up over time, though, and lead to low red blood cell counts (anemia). Sometimes the first sign of colorectal cancer is a blood test showing a low red blood cell count.
Most of these problems are more often caused by conditions other than colorectal cancer, such as infection, hemorrhoids, irritable bowel syndrome, or inflammatory bowel disease. Still, if you have any of these problems, it's important to see your doctor right away so the cause can be found and treated, if needed.
How can you prevent colorectal cancer?
Colorectal cancer is highly preventable if screened early. There are several screening options used to detect colorectal cancer. Always talk with your doctor for these options.
Colonoscopy (every 10 years, or more frequently)
High-sensitivity fecal occult blood test (FOBT), stool test, or fecal immunochemical test (FIT) (every year)
Sigmoidoscopy (every 5 years or, with FOBT every three years).
For more information contact the Manalapan Township Health Department:
Hours:
Monday-Friday, 8:30 a.m. – 4:30 p.m.
Location:
Manalapan Town Hall
120 Route 522 & Taylors Mills Road, Manalapan, NJ 07726
Phone: (732) 446-8345
Fax: (732) 446-1576