News & Events
Calendar of Events
National Cancer Control Month
April 01, 2018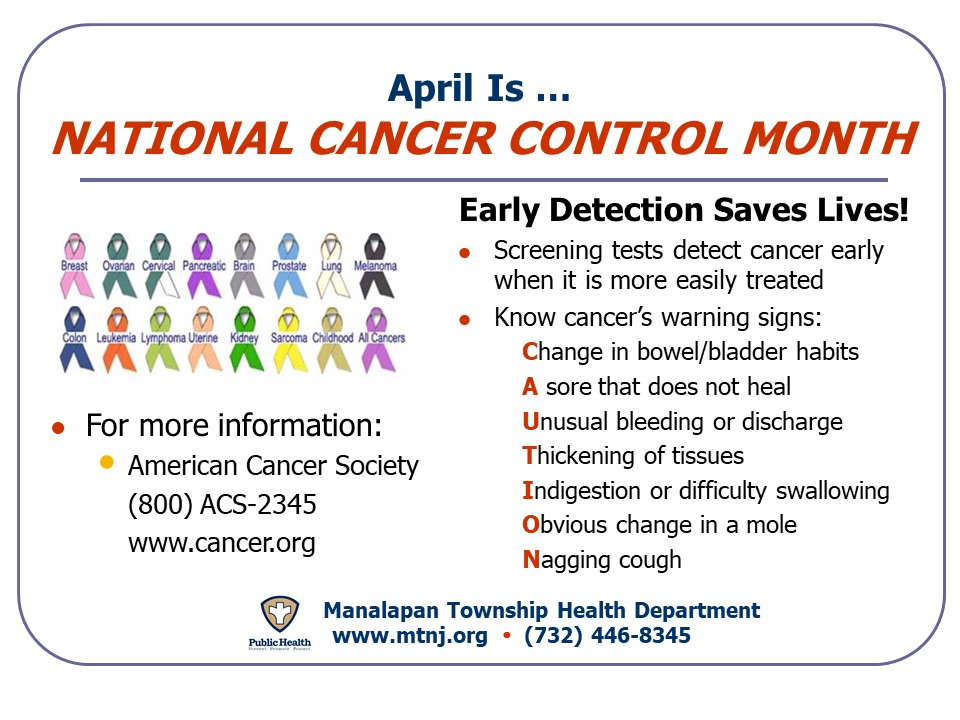 April is NATIONAL CANCER CONTROL MONTH
In the past few decades, there have been many significant advances regarding cancer control. More people are surviving cancer due to better prevention, the increased use of early detection practices, and improved treatments. The best way to increase your chance of surviving cancer is to catch it before it spreads. The only way to do this is to regularly test for cancer through self-examinations or medical screens. These will increase your chance of discovering cancer early and successfully treating it.
In order to spread awareness about the importance of cancer prevention and detection, the White House recognizes April as National Cancer Control Month.
There is no way to fully prevent cancer, but there are some things you can do to lower your risk:
Don't use tobacco
Limit the amount of alcohol you drink
Decrease your exposure to ultraviolet (UV) rays and sunlight
Eat a healthy diet
Maintain a healthy weight and be physically active
Get immunized for Hepatitis B and Human papillomavirus (HPV)
Get regular medical care and regularly self-exam and screen for various types of cancer
You can remember C.A.U.T.I.O.N. to know the general warning signs of cancer:
Change in bowel/bladder habits
A sore that does not heal
Unusual bleeding or discharge
Thickening of tissues
Indigestion or difficulty swallowing
Obvious change in a mole
Nagging cough
Screening tests can detect cancer early when it is more easily treated. There are many tests that can screen for certain types of cancers. You should talk to your doctor if you think you should have these tests. These tests include:
Mammography (for breast cancer)
Pap tests (for cervical cancer)
Fecal occult blood tests (for colorectal cancer)
Colorectal endoscopy (for colorectal cancer)
For more information contact the Manalapan Township Health Department:
Hours:
Monday-Friday, 8:30 a.m. – 4:30 p.m.
Location:
Manalapan Town Hall
120 Route 522 & Taylors Mills Road, Manalapan, NJ 07726
Phone: (732) 446-8345
Fax: (732) 446-1576