News & Events
Calendar of Events
March 26th-30th is Tsunami Preparedness Week
March 26, 2018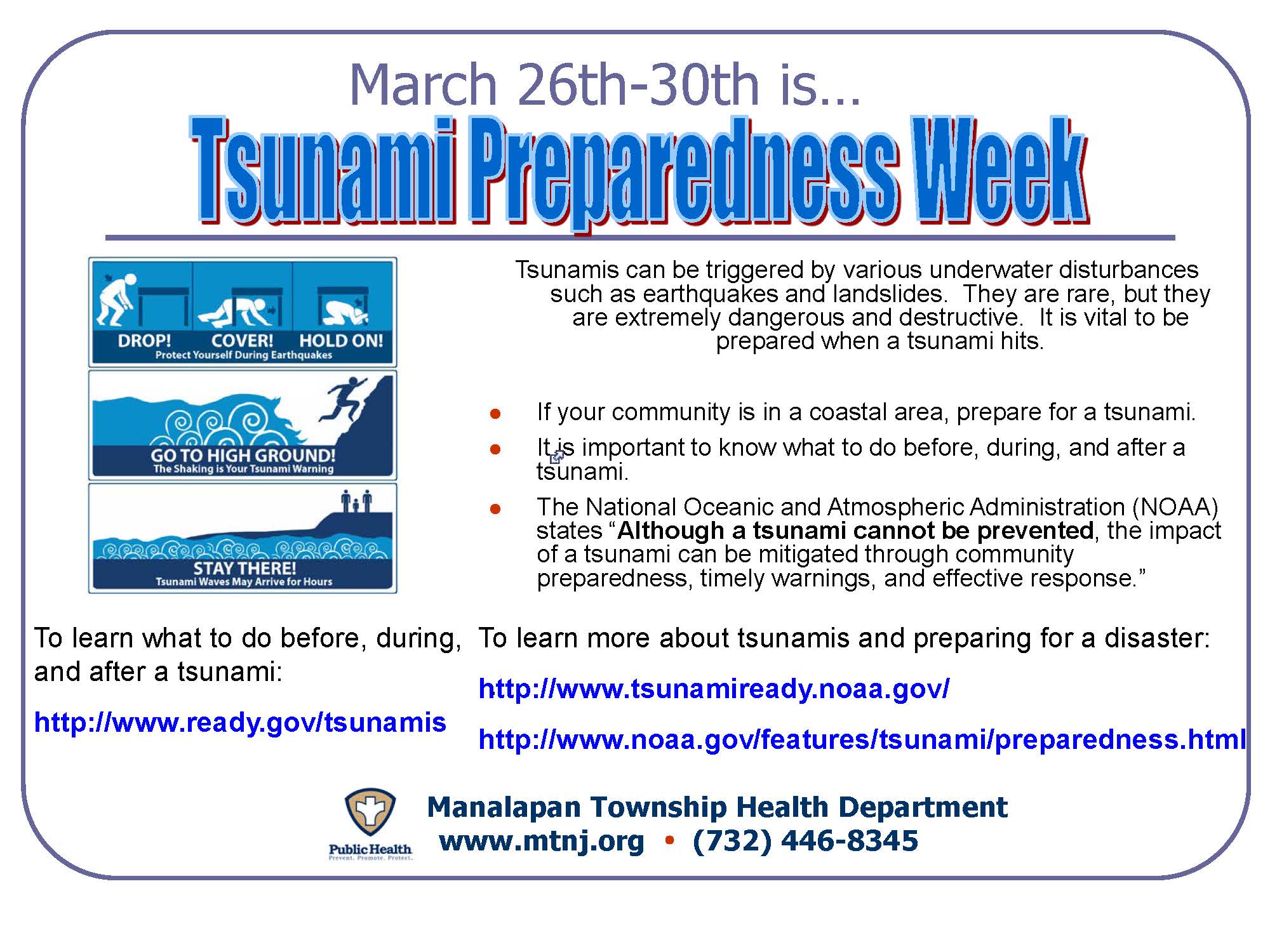 March is Tsunami Preparedness Week
What is a Tsunami?
A tsunami is defined as a set of powerful ocean waves most commonly caused by a large earthquake or landslide that occurs near or under the ocean. Even though destructive tsunamis haven't happened on the East coast it could happen so we should be always prepared and plan for the worst. One of the most recent high profile tsunami's occurred in 2004 and is known as the Indian Ocean Earthquake and Tsunami. The tsunami was the most lethal ever to have occurred, with a death toll that reached a staggering figure of over 230,000,000 affecting people in 14 countries.
What are the warning signs of a tsunami?
A strong earthquake, felt in a coastal area, that causes difficulty standing
A noticeable rapid rise or fall in coastal waters
A loud roaring sound coming from the ocean
How can I prepare for a tsunami?
Find out if your home, school, workplace, or other frequently visited places are in a tsunami hazard area or evacuation zone.
Know their height above sea level and their distance from the coast and other high-risk waters. Evacuations may be based on these numbers.
Plan evacuation routes to safe locations from these places. If possible, pick locations 100 feet (30 meters) above sea level or as far as 2 miles (3 kilometers) inland, away from the coast. If you cannot get this high or far, go as high or far as you can. Every foot inland or upward may make a difference. An alternative in some areas is "vertical evacuation," which means going to a high floor of a tall building.
Find out what your school's evacuation plan is. Schools will keep children safe by moving them out of harm's way. Find out where the assembly area is and where you should pick up your children. Do not rush to the school during an evacuation.
Put together a disaster kit of materials that you and your family may need in an emergency.
Familiarize yourself with evacuation routes.
What should I do when a tsunami may happen?
Drop, cover, and hold on. You should first protect yourself from the earthquake.
When the shaking stops, move quickly to higher ground away from the coast. A tsunami may be coming within minutes.
Be prepared for aftershocks, which happen frequently after earthquakes. Each time the earth shakes, drop, cover, and hold on.
Move to your designated safe location or as far inland and uphill as possible.
What should I do after a tsunami occurs?
Return home only after local officials tell you it is safe. A tsunami is a series of waves that may continue for hours. Do not assume that after one wave the danger is over. The next wave may be larger than the first.
Stay away from damaged areas so emergency responders can have full access.
Stay out of any building that has water around it.
Be careful reentering buildings or homes. Tsunami-driven floodwater may have damaged buildings.
For more information contact the Manalapan Township Health Department:
Hours:
Monday-Friday, 8:30 a.m. – 4:30 p.m.
Location:
Manalapan Town Hall
120 Route 522 & Taylors Mills Road, Manalapan, NJ 07726
Phone: (732) 446-8345
Fax: (732) 446-1576