News & Events
Calendar of Events
High School Student Video Contest
February 04, 2019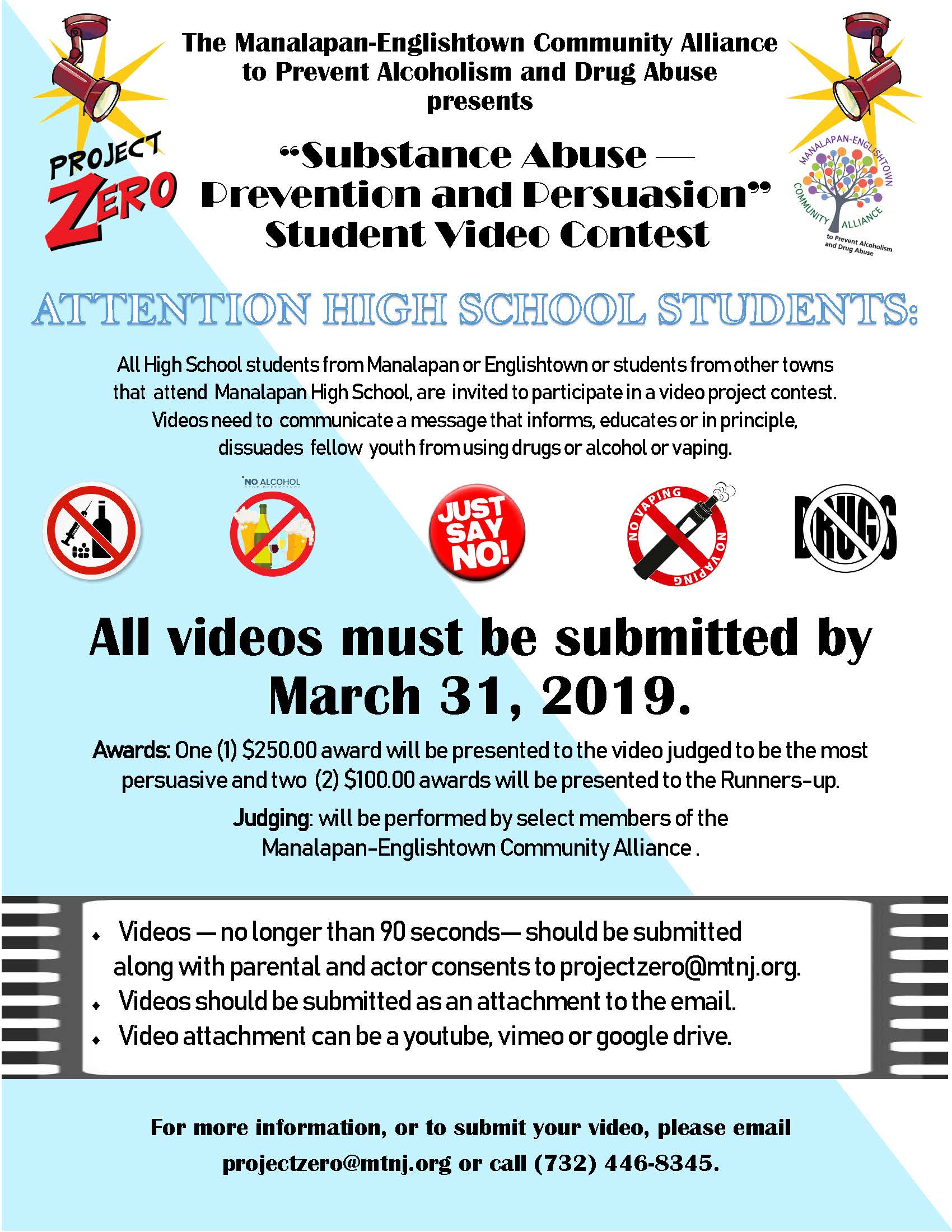 The Manalapan-Englishtown Community Alliance is pleased to announce its first High School Video Contest – "Substance Abuse-Prevention and Persuasion". This event will raise awareness with its primary goal being to prevent substance abuse by engaging youth and challenging them to create video messages with a preventive and/or persuasive message.
The contest is now open and will run through March 31, 2019. All high school students from Manalapan or Englishtown or students from other towns that attend Manalapan High School, are invited to participate in a video project contest. Videos need to communicate a message that informs, educates or in principle, dissuades fellow youth from using drugs or alcohol or vaping.
"Today's youth culture is so tied into the various forms of social media, in particular, recording and viewing videos." Said David Richardson, Manalapan Township Health Officer. "We are hoping to capitalize on this trend and empower our High School students to be communicators of our mission."
"The Community Alliance exists for a variety of reasons, and our members are engaged because of different interests and experiences", stated Bob Scarpa, Chairman of the Alliance. "But we all share a passion to be as active as possible in our youth's lives with the message of preventing abuse and addiction to drugs, alcohol and vaping."
The Judging Committee will consist of members of the Manalapan-Englishtown Community Alliance to Prevent Drug and Alcoholism and guest judges. The judges will evaluate the entries on the following three criteria: 1) Clear and Compelling Message, 2) Memorable Content and Delivery, and 3) Originality. Winners will be selected and will be notified during the first week of May 2019. The first place winner will receive $250.00 and the two (2) runner-ups will win $100.00 each.
All contestants must fill out an online entry form. All entries may be submitted via attachment to an email to projectzero@mtnj.org or via deliver of a flash drive to the Manalapan Health Department by March 31, 2019. Attachments files should be either Youtube, Vimeo or Google Drive.
Videos must be no longer than 90 seconds in total length from opening credits to black screen. For more information on the Official Rules, please visit the Manalapan Township website or contact the Manalapan Health Department at projectzero@mtnj.org. By participating in the contest, each contestant (and his/her parent or legal guardian) unconditionally accepts and agrees to comply with and abide by the Official Rules and the decisions of the Sponsor, which will be final and binding.
The mission of the Manalapan-Englishtown Community Alliance to Prevent Alcoholism and Drug Abuse is to meet the need for comprehensive alcohol and drug abuse awareness, planning and programming to create community-level change in Manalapan Township and Englishtown Borough. Project ZERO is a collaborative effort of the Manalapan-Englishtown Community Alliance - engaging Manalapan and Englishtown individuals, groups and businesses, who when working together, expect to make a serious difference and start to eliminate drug and alcohol abuse here. For more information on the Alliance or Project ZERO or to become part of the Alliance please contact the Manalapan Health Department at 732-446-8345 or projectZERO@mtnj.org.
The contest flyer, full contest rules and parental and actor consent forms are all available for downloading.
Attached are 3 documents:
Contest Rules
Parental Consent Form
Actor Consent Form
Please contact the Health Department if you have any questions.