News & Events
Calendar of Events
Hidden In Plain Sight
August 29, 2018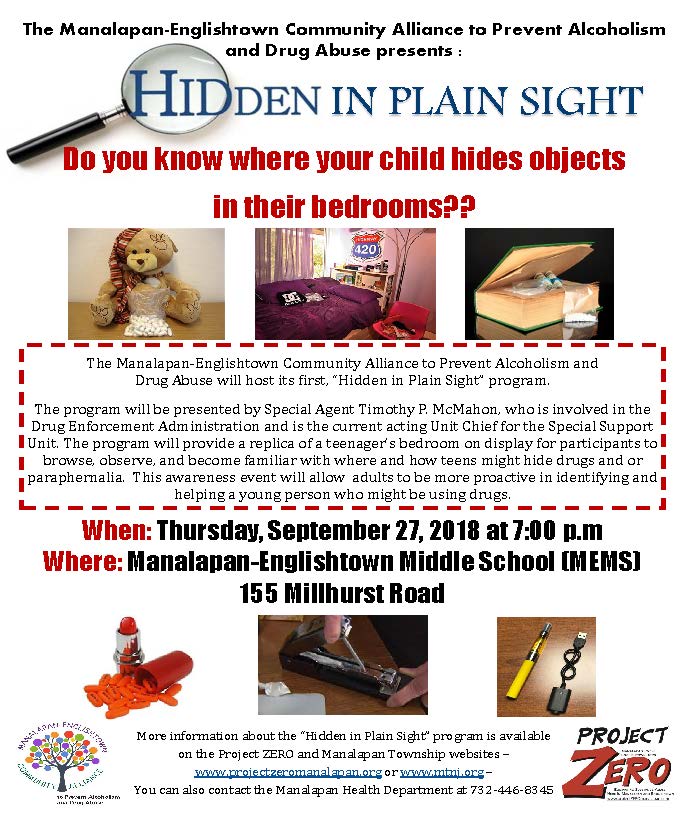 Hidden in Plain Sight
A Substance Abuse Prevention Program Focusing on How Youth Hiding their Drugs and Alcohol
Manalapan, NJ - Did you know that the teddy bear your teen age son keeps on his bed could be a hiding place for pills or marijuana? How about your daughters habitually present lipstick or lip balm? Did you ever think to shake it and see if it rattles with pills or liquid?
The Manalapan-Englishtown Community Alliance to Prevent Alcoholism and Drug Abuse will host a "Hidden in Plain Sight" program on Thursday September 27th. This program will be presented by Special Agent Timothy P. McMahon, the current acting Unit Chief of the Special Support Unit of the Drug Enforcement Administration. The program is specifically designed to help prevent youth drug use, as it educates parents and other community adult members and any adult who works with or cares about young people, of the current strategies youth are using to hide drugs and alcohol – in plain sight. The program will be held at the Manalapan-Englishtown Middle School (MEMS), 155 Millhurst Road, Manalapan, NJ starting at 7:00 pm.
This program will virtually walk through a replica of a teenager's bedroom for participants to observe and become familiar with where and how teens might hide drugs and or paraphernalia. Seemingly innocent items commonly used by youth could actually indicate a substance abuse problem. For example, what may seem to be just an ordinary stuffed animal could be a concealed hiding spot for pills, alcohol, and other illegal substances. Or a water bottle may have a built-in false bottom for the same purpose. This awareness event will allow adults to be more proactive in helping a young person who might be using drugs.
During this program parents and community adults will hear from prevention specialists and law enforcement about local drug trends and how to prevent youth substance abuse disorders. Would you be able to recognize signs of substance use and effectively intervene before they become impossible to ignore? Don't leave it to chance!
More information about the "Hidden in Plain Sight" program will be available on the Project ZERO and Manalapan Township websites – www.projectzeromanalapan.org or www.mtnj.org – or in the Manalapan Town Hall or by calling the Manalapan Health Department at 732-446-8345.
For more information, please feel free to call David Richardson, Health Officer, at (732) 446-8345 or health@mtnj.org
The Manalapan-Englishtown Community Alliance to Prevent Alcoholism and Drug Abuse exists as a catalyst within our community to raise public awareness about alcohol and substance abuse issues. The alliance is a volunteer board comprised of community residents and representatives. The Alliance meets monthly, routinely on the third Thursday of the month at 7:00 pm. For more information about the Alliance, including the location of an upcoming meeting, please contact David Richardson as noted above.