News & Events
Calendar of Events
Food Safety Awareness Month
September 01, 2018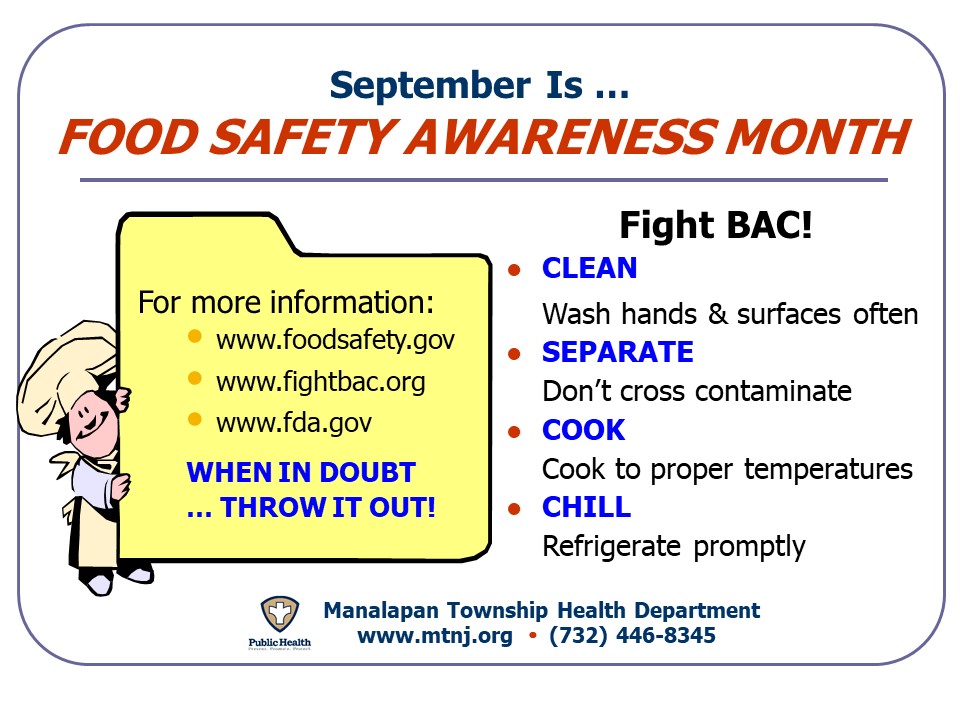 September is FOOD SAFETY AWARENESS MONTH
Bacteria: they're everywhere. Sometimes, they can even enter our food and cause illness. In some cases, these illnesses can be very serious. The only way to stop foodborne illnesses is to practice good food safety techniques and prevent bacteria and other foodborne pathogens from entering our bodies through the food we eat. There are just a few simple steps that you can take to greatly decrease the risk of contracting a foodborne illness: cleaning, separating, cooking, and chilling.
The food industry recognizes September as Food Safety Awareness Month.
You can take the following steps to prevent foodborne illnesses:
CLEAN. Wash your hands with warm water and soap before and after handling food. Wash surfaces and utensils with hot soapy water before preparing food and before you go onto the next food. Always rinse fresh fruits and vegetables.
SEPARATE. Cross-contamination can occur when bacteria are spread from one food to another. Keep separate raw meats and eggs from other foods in your grocery shopping cart, grocery bags, and refrigerator. Never place cooked food on a plate that previously held raw meat or eggs.
COOK. Always cook food to the recommended temperatures. Use a food thermometer to measure the internal temperature of cooked foods and make sure they are cooked to a safe minimum internal temperature. Color is not a reliable indicator of doneness.
CHILL. Refrigerate food promptly. Cold temperatures slow the growth of bacteria. Keep a constant refrigerator temperature of 40°F. Refrigerate or freeze perishable food within 2 hours of cooking or purchasing. Never thaw food at room temperature.
WHEN IN DOUBT, THROW IT OUT. Discard all swollen, gassy, leaking, or spoiled canned foods as well as fresh or cooked foods that have been kept past a safe keeping timeframe. Keep discarded food out of the reach of humans and pets.
For more information contact the Manalapan Township Health Department:
Hours:
Monday-Friday, 8:30 a.m. – 4:30 p.m.
Location:
Manalapan Town Hall
120 Route 522 & Taylors Mills Road, Manalapan, NJ 07726
Phone: (732) 446-8345
Fax: (732) 446-1576